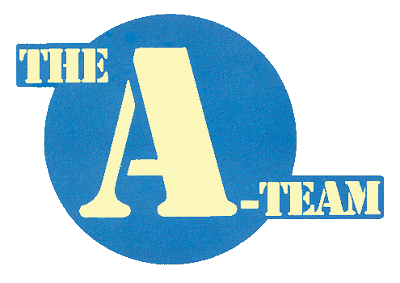 The A-Team was a very popular action drama that ran for five seasons from 1983 to 1987. Ten novels were published by Target Books in the UK plus two 'Plot it Yourself' books. In addition there was a set of six booklet-style story books for children published by Moonbeam Books (originally with accompanying cassette tapes). Six books were published in the US by Dell Books.



= In My Collection /

= Not in My Collection
UK - Target Books

No 1 (1983)

The A-Team

No 2 (1984)

Small But Deadly Wars

No 3 (1984)

When You Comin' Back, Range Rider?
No 4 (1984)

Old Scores to Settle

No 5 (1984)

Ten Percent of Trouble

No 6 (1985)

Operation Desert Sun : The Untold Story

No 7 (1985)

Bullets, Bikinis and Bells
No 8 (1985)

Backwoods Menace

No 9 (1985)

The Bend in the River

No 10 (1985)

Death Vows
1985

Plot It Yorself 1 : Defence Against Terror

1985

Plot It Yourself 2 : The Danger Maze
Moonbeam Books
No 1 (1984)

You Lose, Snake's Eyes

No 2 (1984)

Bugs in the Box

No 3 (1984)

Follow That Chicken

No 4 (1984)

Room, Bath and Spider

No 5 (1985)

Cops and Cops

No 6 (1985)

No Strings Attack
US - Dell Books

No 1 (1984)

The A-Team

No 2 (1984)

Small But Deadly Wars

No 3 (1984)

When You Comin' Back, Range Rider?

No 4 (1984)

Old Scores to Settle

No 5 (1984)

Ten Percent of Trouble

No 6 (1984)

Operation Desert Sun : The Untold Story
The A-Team Annuals Gallery

Mr T Annuals Gallery