| | |
| --- | --- |
| Back to TV Sci Fi Books Index | Back to Home Page |
Smallville is a new 'take' on the Superman story, concentrating on the life of a young Clark Kent before he became Superboy.

Ten numbered books were published in the US by Little, Brown and Company, followed by a further eight by Aspect Books.

In the UK, four of the Aspect books were reprinted by Orbit Books - All the remaining books (Little Brown and Aspect) were reprinted by Atom Books (a division of Orbit Books) in a larger "trade" size paperback. In addition, the US Book No 9 which was titled "Temptation" was renamed as "Control" in the UK version, although I don't know why they changed it. The series ran for a total of ten seasons, finishing in 2011, but there have been no new novels since 2004.
US - Little, Brown and Company Books
| | | |
| --- | --- | --- |
| No 1 (2002) | No 2 (2002) | No 3 (2002) |
| | | | |
| --- | --- | --- | --- |
| No 4 (2003) | No 5 (2003) | No 6 (2003) | No 7 (2003) |
| | | |
| --- | --- | --- |
| No 8 (2003) | No 9 (2004) | No 10 (2004) |
US - Aspect Books
| | | | |
| --- | --- | --- | --- |
| 2002 | 2002 | 2003 | 2003 |
| 2003 | 2003 | 2004 | 2004 |
UK - Orbit Books
UK - Orbit Books - Omnibuses (Trade Size)

| | |
| --- | --- |
| Vol 1 (2006) | Vol 2 (2006) |
UK - Atom Books
Mary Glasgow Magazines Publishers
Nov 2006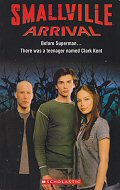 UK - Titan Books - Season Companions
| | | |
| --- | --- | --- |
| Season 1 (2004) | Season 2 (2005) | Season 3 (2005) |
| | | | |
| --- | --- | --- | --- |
| Season 4 (2007) | Season 5 (2007) | Season 6 (2008) | Season 7 (2008) |
Related galleries
Lois and Clark Books Gallery / Supergirl Books Gallery / Superman Books Gallery

Superman Annuals Gallery / Smallville Annuals Gallery