The 9th Doctor : Christopher Eccleston (2005)

Six novels were published featuring the ninth Doctor, all released as hardbacks in May and September 2005. Christopher Eccleston moved on after just one season. BBC Books re-issued all six books as paperbacks (woo hoo) as part of a boxed set called "The Doctor Who Collection". In 2018, the first novelisation was published of the first episode 'Rose'.
BBC Target Books
Paperback

| | |
| --- | --- |
| 2018 | 2021 |
BBC Books
Hardback

2005

The Clockwise Man

2005

The Monsters Inside

2005

Winner Takes All

2005

The Deviant Strain

2005

Only Human

2005

The Stealers of Dreams
BBC Books
Paperback from "The Doctor Who Collection"

2005

The Clockwise Man

2005

The Monsters Inside

2005

Winner Takes All

2005

The Deviant Strain

2005

Only Human

2005

The Stealers of Dreams
2013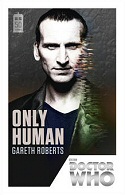 Only Human