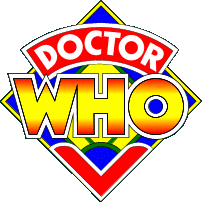 Doctor Who Galleries Index
The 4th Doctor : Tom Baker (1974 - 1981)
The gallery below shows the fourth Doctor books in
transmission
order, including all the cover variations as they were reprinted. Click
here
to see ALL the Target novelisations in publication order. In 2012 a novelisation of the missing episode 'Shada' was published in hardback. This episode never made it to TV though it was partially filmed, and was originally scheduled to be shown at the end of season 17, after the episode 'The Horns of Nimon'. In 2015 'The City of Death' was finally novelised and published by BBC Books. In 2017 'The Pirate Planet' was also novelised, completing the fourth Doctor series.
Target Books and BBC Books

The Giant Robot / Robot from the episode "Robot"
1978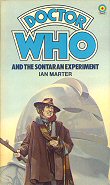 The Loch Ness Monster / Terror of the Zygons from the episode "Terror of the Zygons"
| | |
| --- | --- |
| 1977 | 1982 |
1978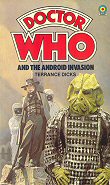 1977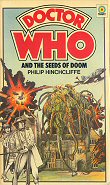 | | |
| --- | --- |
| 1977 | 1991 |
| | |
| --- | --- |
| The Hand of Fear | The Deadly Assassin |
| | |
| --- | --- |
| 1979 | 1977 |
| | |
| --- | --- |
| 1978 | 1993 |
| | |
| --- | --- |
| 1979 | 1994 |
The Talons of Weng-Chiang
| | |
| --- | --- |
| 1977 | 1994 |
| | | | |
| --- | --- | --- | --- |
| The Horror of Fang Rock | The Invisible Enemy | The Image of the Fendahl | The Sunmakers |
| | | |
| --- | --- | --- |
| The Underworld | The Invasion of Time | The Ribos Operation |
| | | |
| --- | --- | --- |
| 2017 (Hardback) | 2018 | 2021 |
| | | | |
| --- | --- | --- | --- |
| The Stones of Blood | The Androids of Tara | The Power of Kroll | The Armaggedon Factor |
| | |
| --- | --- |
| 1979 | 1992 |
| | | |
| --- | --- | --- |
| 2015 (Hardback) | 2016 | 2018 |
| | | |
| --- | --- | --- |
| The Creature From the Pit | The Nightmare of Eden | The Horns of Nimon |
| | |
| --- | --- |
| 2012 (Hardback) | 2013 |
| | |
| --- | --- |
| 1982 | 1993 |
| | |
| --- | --- |
| 1983 | 1993 |
| | | |
| --- | --- | --- |
| Full Circle | The State of Decay | The Warriors Gate |
| | |
| --- | --- |
| 1982 | 1993 |
| | |
| --- | --- |
| 1982 | 1991 |