The World of Wodehouse was a BBC comedy TV series based on the Blandings Castle and Ukridge books by P.G. Wodehouse (List at bottom of gallery) which ran for two seasons from 1967 (Blandings Castle, 6 episodes) to 1968 (Ukridge, 7 episodes). No full episodes of either series exists, having fallen victim to the wiping of tapes by the BBC in the 1960s. Eight of the Wodehouse novels were re-published by Penguin Books with TV-themed covers. The BBC made a new TV series entitled 'Blandings' in 2013 also based on Wodehouse's books.



= In My Collection /

= Not in My Collection
Penguin Books

1966

Leave it to Psmith

1966

Blandings Castle

1966

Heavy Weather

1966

Lord Emsworth and Others

1966

Uncle Fred in the Springtime

1966

Full Moon

1966

Service With a Smile

1966

Galahad at Blandings

Blandings was a BBC TV series also based on the Blandings Castle novels by P. G. Wodehouse that ran for two seasons from 2013 to 2014. One book was published with a TV-themed cover by Arrow Books.
2012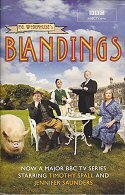 Blandings

P.G. Wodehouse's Blandings Castle and Ukridge Books and Short Stories List
with original publication dates

Something Fresh (1915) — Also published under the title Something New
Leave it to Psmith (1923)
Blandings Castle and Elsewhere (1935) – Six short stories of twelve, written from 1926 to 1931
Summer Lightning (1929)
Heavy Weather (1933)
Lord Emsworth and Others (1937) – One short story of nine
Uncle Fred in the Springtime (1939)
Full Moon (1947)
Nothing Serious (1950) – One short story of ten
Pigs Have Wings (1952)
Service With a Smile (1961)
Galahad at Blandings (1965)
Plum Pie (1966) – One short story of nine
A Pelican at Blandings (1969)
Sunset at Blandings (1977)