There were two television series about Lassie following the 1943 film 'Lassie Come Home'. The first series ran from 1954 until 1973, a total of 19 seasons. I do not know if there were any books/novelisations from this series. In 1989 there was a new series called 'The New Lassie' which ran for two seasons between 1989 and 1992. Six episodes were novelised, in the US by Berkley Books in a numbered series, and in the UK by Fantail Books (two episodes per book).



= In My Collection /

= Not in My Collection
US : Berkley Books

Book 1 (1989)

The Puppy Problem

Book 2 (1989)

Digging Up Danger

Book 3 (1990)

The Big Blowup

Book 4 (1990)

Water Watchdog

Book 5 (1990)

The Skateboard Dare

Book 6 (1990)

Dangerous Party
UK : Fantail Books

1990

Boy's Best Friend / Buried Treasure
Retitled from US Books 1 & 2

1990

Party Nightmare / Water Watchdog
Retitled from US Books 6 & 4

1990

Skateboard Stunt / Danger Zone
Retitled from US Books 5 & 3
Other Lassie Books in My Collection...

Whitman Books
From the Whitman 'Authorized TV Adventures' series

From the Whitman 'Big Little Books' series

Target Books

Puffin Books
Novelisation of the 1943 Film "Lassie, Come Home"
1981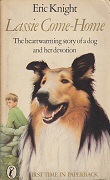 Novelisation of the 1994 Film "Lassie : Best Friends are Forever"
Troll Books
Novelisation of the 1978 Film "The Magic of Lassie"
1978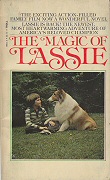 World Distributors Books
Book 11 in the 12-part 'Television Favourites Library'
1959