Gunsmoke was a popular US western series that ran for twenty seasons from 1955 to 1975. When Gunsmoke was first aired in the UK it was re-titled as 'Gun Law' and one book was published by World Distributors with this title. In the US, at least two books were published by Ballantine Books, four books published in 1974 by Award Books, and a number of others including a revival in the 1990s and 2000s, three published by Boulevard Books and six by Signet Books. There was also a UK published novel in 1973. Whitman also published 2 hardbacks in their 'Authorised TV Adventures' series.



In My Collection /

= Not in My Collection
World Distributors Books

1973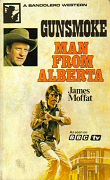 Award Books

No 1 (1974)

The Renegades

No 2 (1974)

Shootout
Extended Re-Issue...
No 1 (1974)

The Renegades

No 2 (1974)

Shootout

No 3 (1974)

Dual at Dodge City

No 4 (1975)

Cheyenne Vengeance
Popular Library Books

1970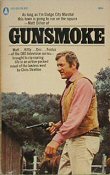 Berkley Boulevard Books

No 1 (1998)

Gunsmoke

No 2 (1999)

Dead Man's Witness

No 3 (1999)

Marshal Festus
Signet Books

Jan 2005

Blood, Bullets and Buckskin

May 2005

The Last Dog Soldier

Sep 2005

Blizzard of Lead

May 2006

The Reckless Gun

2006

Dodge the Devil

Jan 2007

The Day of the Gunfighter
Whitman Books
From the Whitman 'Authorized TV Adventures' series
Big Little Books
1958

Little Golden Books
Hardcover
1958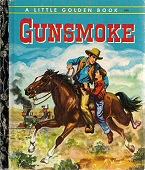 Bear Manor Media
Hardcover Reference Book
2013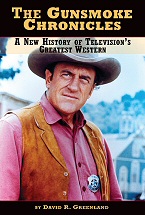 Gunsmoke was re-titled as 'Gun Law' in the UK and then the title reverted (scroll up for Gunsmoke).
World Distributors Books
Hardback
From the World Distributors 'TV Favourites' series
1958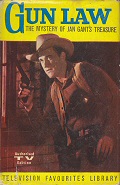 Gunsmoke / Gun Law Annuals Gallery