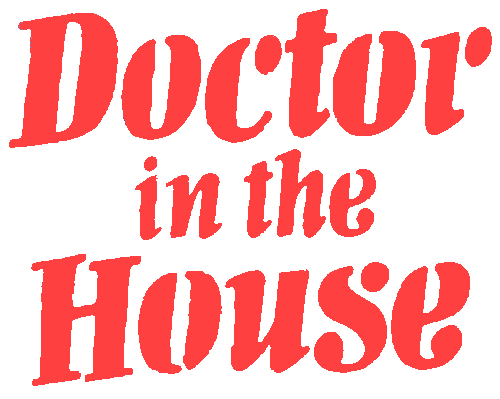 Doctor in the House was a UK TV comedy series from London Weekend Television (ITV) that ran for two seasons (13 episodes each) from 1969 to 1970, based on a set of books by Richard Gordon (list of titles at end of gallery). In 1971 Penguin Books re-published some titles with TV themed covers. The series was so popular that it was followed by several sequels as follows... Doctor at Large (LWT 1971, 29 episodes), Doctor in Charge (LWT 1972 to 1973, 2 seasons, 43 episodes), Doctor at Sea (LWT 1974, 1 season of 13 episodes), Doctor on the Go (LWT 1975 to 1977, 2 seasons of 13 episodes each), Doctor Down Under (Produced by the Seven Network in Australia in 1979, 1 season of 13 episodes) and Doctor at the Top (BBC 1991, 1 season of 7 episodes). In 1977 Penguin Books re-published several more titles with TV-themed covers.

Before the Television series there were seven films also based on the books by Richard Gordon...Doctor In The House (1954), Doctor At Sea (1955), Doctor At Large (1957), Doctor In Love (1960), Doctor In Distress (1963), Doctor In Clover (1966) and Doctor In Trouble (1970). The fifth film was not based on any of the novels. The sixth film was featured on a reprint of Doctor in Clover in 1966 and the seventh film was based on Doctor on Toast which was re-published with a film cover in 1970. Some of the books which were adapted into movies were re-published by Michael Joseph Books with a film-themed cover. Included in the gallery are other Richard Gordon novels (not in the 'Doctor' series) which were adapted into films and re-published with film-themed covers in the same format and design as the 'Doctor' series.

As far as I'm aware, only the last of the three 'Lancelot' books was published with a themed cover, pictured below (publisher unknown).



= In My Collection /

= Not in My Collection

Many thanks to Roger Merry for image contribution, information and prompting me to get this gallery launched.
Penguin Books

| | | | |
| --- | --- | --- | --- |
| 1977 | 1977 | 1977 | 1977 |
| 1977 | 1977 | 1977 | 1977 |
| 1977 | 1977 | 1977 | 1977 |
Hardback (unknown date)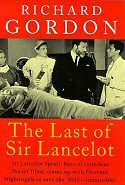 Michael Joseph Books
Hardback


Richard Gordon's 'Doctor' Books List
with original publication dates

1. Doctor In The House (1952)
2. Doctor At Sea (1953)
3. Doctor At Large (1955)
4. Doctor In Love (1957)
5. Doctor And Son (1959)
6. Doctor In Clover (1960)
7. Doctor In The Swim (1961)
8. Doctor On Toast (1961)
9. The Summer Of Sir Lancelot (1965)
10. Love And Sir Lancelot (1965)
11. Doctor On The Boil (1970)
12. Doctor On The Brain (1972)
13. Doctor In The Nude (1973)
14. Doctor On The Job (1976)
15. Doctor In The Nest (1979)
16. Doctor's Daughters (1981)
17. Doctor On The Ball (1985)
18. Doctor In The Soup (1986)
19. The Last Of Sir Lancelot (1999)