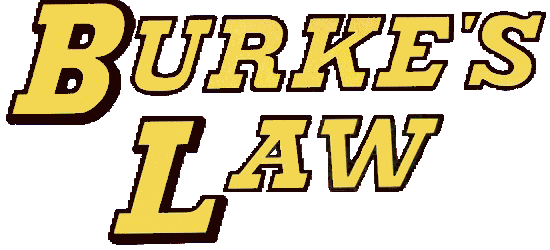 Burke's Law was an American detective series that ran for three seasons from 1963 to 1966 and starred Gene Barry as the millionnaire detective Amos Burke. The first two seasons were 32 episodes long each and the third season was retitled to 'Amos Burke Secret Agent' which ran for just 17 episodes and changed the whole premise of the series from Amos Burke being a millionnaire detective to a secret agent. Two novels were published, first by Perma Books (an imprint of Pocket Books) and then re-published by Fontana Books with different titles. In the 1990s the series was revived for two seasons which ran from 1993 to 1995 and again starred Gene Barry in the title role. I am not aware of any TV tie-in books from this later series.



= In My Collection /

= Not in My Collection
Perma Books / Pocket Books

1964

Who Killed Beau Sparrow?

1964

Who Killed Madcap Millicent?
Fontana Books

1965

Burke's Law
Reprint of 'Who Killed Beau Sparrow?'

1966

The Martini Murders
Reprint of 'Who Killed Madcap Millicent?'