The Beverly Hillbillies was a US situation comedy TV series that ran for nine seasons between 1962 and 1971. I know of at least two books published by Avon in 1964 and 1965, plus a further hardback book by Whitman Books in 1963. In 1993 there was a film released for which one novelisation was published by Harper Collins.



= In My Collection /

= Not in My Collection
Avon Books

1964

The Clampetts of Beverly Hills

1965

Live It Up!
Whitman Books
From the Whitman 'Authorized TV Adventures' series

1963


The Saga of Wildcat Creek
Harper Collins Books

1993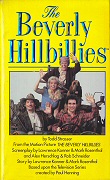 The Beverly Hillbillies (Movie Novelisation)
Beverly Hillbillies Annuals Gallery