MY COLLECTION
UK MAP POSTCARDS BY DESIGN
Murray King (MK) / Studio Casa Mia

Murray King Ltd was formed in 1970, based at Studio Casa Mia in St. Ives, Cornwall and was dissolved at an unknown date, succeeded by Images of Cornwall Publishing Ltd (2002 to 2005). Nearly all of the MK postcards indicated the same address except two which stated Studio St. Ives. Two postcards (the smaller Cornish Rivera ones drawn by cartographer and artist Victor Jones) did not have the MK branding at all, just Studio Casa Mia.

Cornish Shipwrecks (MK19)
Standard Size


Cornish Shipwrecks (MK19)
Continental Size

Cornwall the County of Hidden Treasure (MK18)
Standard Size


Cornwall the County of Hidden Treasure (MK1)
Continental Size


Cornwall the County of Hidden Treasure (MK1)
Continental Size

Cornwall the County of Hidden Treasure (CC1 GIANT)
Super Size
| | | | |
| --- | --- | --- | --- |
| Cornwall's Heritage (MK22) | King Arthur's Cornwall (MK16C) | Devon (MKD200) | Penwith, Cornwall (MK75) |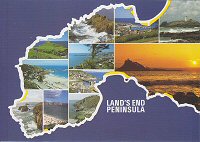 Land's End Peninsual, Cornwall (MK120)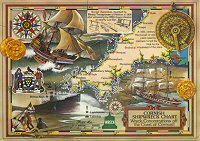 Cornish Shipwreck Chart (MK19)
Continental Size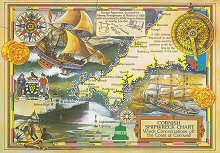 Cornish Shipwreck Chart (CC11-1009)
Slightly larger size (Branded as Murray King Images and Images of Cornwall)
| | |
| --- | --- |
| The Cornish Riviera (no code) | Cornwall's Heritage (MK22G) |
BRANDED AS STUDIO CASA MIA
| | | | |
| --- | --- | --- | --- |
| | The Cornish Riviera | The Cornish Riviera (variant) | |