MY COLLECTION
UK MAP POSTCARDS BY DESIGN
Dennis Series

Many of the Dennis series of map postcards have been issued twice : the older series were paler with less distinct colours and outlines,
sometimes also with less detail and illustrations like the Cornwall and Hampshire ones.
The newer ones in some cases had a different title to reflect changes in county borders etc, such as the North East Riding of Yorkshire
being retitled to Yorkshire Coast.
The first part of the gallery below shows both old and new that exist in my collection. A lot of the older I have twice because
many were also issued with deckle-edging (not easy to show in the galleries so where I have both I have indicated with a *).

Anglesey*

Cornwall*

Cotswold Country*

Dorset
East Riding of Yorkshire / Humberside
Durham Twixt Tyne and Tees (including rare overprint versions*)*
*The third and fourth postcards above are rare gold and silver overprint versions where the original had been mistakenly printed as "Twixt Tyne and Tweed" as in the Northumberland postcard.
See Supersize-Image of the silver one where the underlying text is visible.
Hampshire and the Isle of Wight*
Lincolnshire / Lincolnshire and South Humberside
The Peak District

The Norfolk Broads

North Devon*

South Devon*
Northumberland / Northumberland Twixt Tyne and Tweed*
North York Moors / North Yorkshire Moors
Somerset / Somerset and Avon*
South East England

Cleveland and District / Tees-Side and District
Northern Ireland*
Ulster Transport Hotels
A special edition of the earlier postcard advertising hotels with added illustrations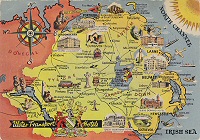 Yorkshire Dales
East Anglia*

Ireland
The Lake District and Lancashire / The Lake District*
Lancashire*

North East Riding of Yorkshire / Yorkshire Coast*

North Wales*

West Scotland & Kyles of Bute / Firth of Clyde*
This second part of the gallery shows Dennis cards in my collection I only have one version of and don't know if there was another one.
*

*

*
This third part of the gallery is the newest series from Dennis that appeared only to be issued for some of the Midland counties.
| | |
| --- | --- |
| Hereford & Worcester | Leicestershire |
| | | |
| --- | --- | --- |
| Derbyshire | Nottinghamshire | Shropshire |
| | |
| --- | --- |
| Staffordshire | Warwickshire |
Miscellaneous.