MY COLLECTION

The Crater Critters have been issued all over the world in varying colours, names and even numbers! Generally there were eight figures to collect, though it has long been rumoured that some countries had ten figures, though I have never seen any proof of that in an advert or cereal box back. However, worldwide there are ten different figures, two of some country sets being different from others, notably in Japan.
This picture is an advert from the back of the 'Lion' comic dated 7 March 1970 showing the eight figures issued in Kellogg's Sugar Smacks with the UK names for the characters.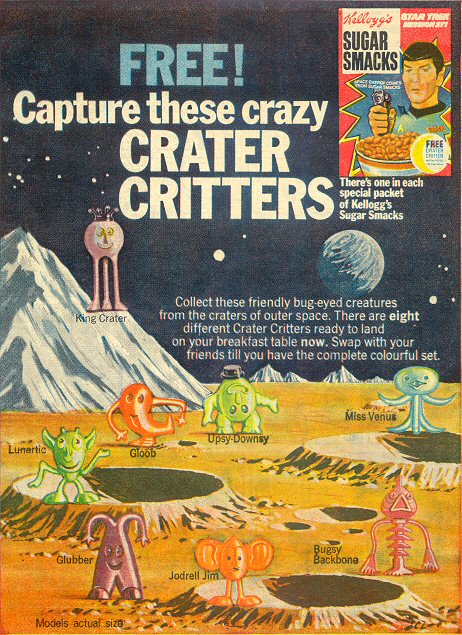 In the UK there were 8 figures to collect in 7 colours...

Lime Green
Orange
Lilac
Aqua
Purple
Pink
Brown

Other countries had the additional colours Red, Yellow and Royal Blue.
The following two pictures are ones acquired electronically showing other cereal box backs illustrations.

Kellogg's Ricicles (country of origin unknown)...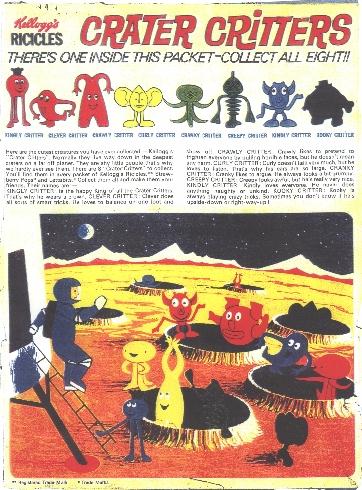 This is my UK collection...

This picture is the back of another cereal box, don't know where from - the series is entitled 'Crater Creatures'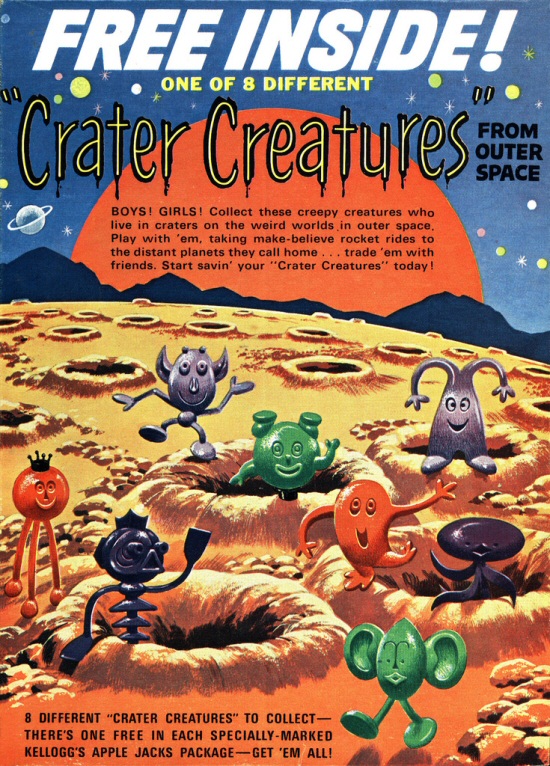 Many of the R&L / Kellogg's cereal toys were later reproduced in Mexico, and these tend to flood the collecting markets nowadays, particularly on eBay. They are made using new plastics and usually have widely varying colours from the originals, This picture illustrates some of those colours...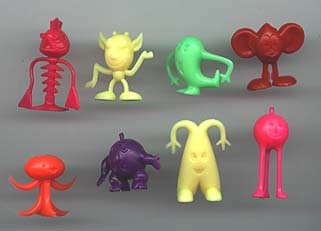 In Japan the series was issued as "Merry Aliens" and still had eight figures in the collection, but two of them were different from elsewhere.
The two that were missing were Lunartic and Jodrell Jim in favour of these two...


Critter No 9


Critter No 10

Photo of a Critter 10 also known as Lunartic...

This is a scan of one of the Japanese cereal boxes...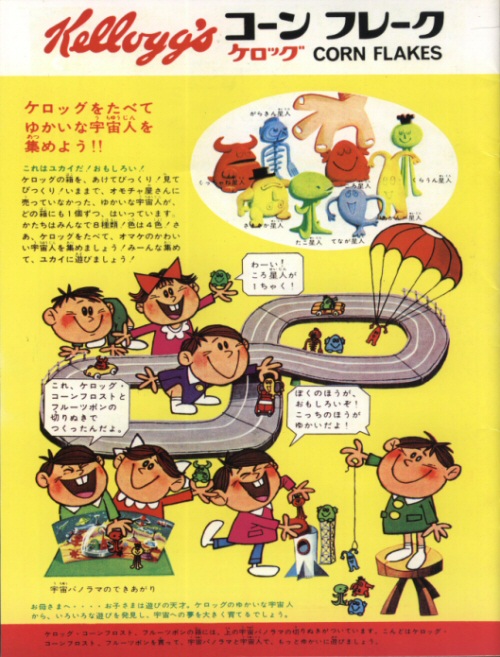 This is my overseas collection...