MY COLLECTION
THE BLACK CAULDRON


The Black Cauldron figures were issued in Kellogg's Corn Flakes in 1985 and comprised of eight figures in four colours; red, blue, green and yellow. Elsewhere (not sure where) there were apparently two further colours, pink and orange (picture at bottom of gallery supports this).
This is my collection...

Other colours available elsewhere...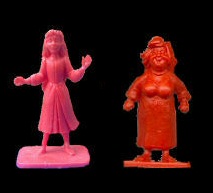 The back of Kellogg's Corn Flakes boxes showed the series to collect and came with a number of cut-out scenes. Many thanks to Nick Symes for providing scans of these from his collection...
| | |
| --- | --- |
| CASTLE | CAULDRON |
| CAVE | DUNGEON |